Hotel Santana Winter promo in conjunction with Air Malta
Book on bed & breakfast & get free upgrade to Half Board Plus & benefit from a 20% discount on your flight booked with Air Malta.
This promotion in conjunction with Air Malta is only available if one books directly from this website and it is available only for stays of 4, 5, 7 nights or more. Any other stay duration does not qualify for this offer.
To benefit from this promotion please click on standard twin/double NRF (non-refundable rate) – Breakfast included.
In the booking form please insert a request for Air Malta promo code under Special Request section.
The promo code will be forwarded to you by the Hotel and you can then use it to get a 20% discount when purchasing your Air Malta flight.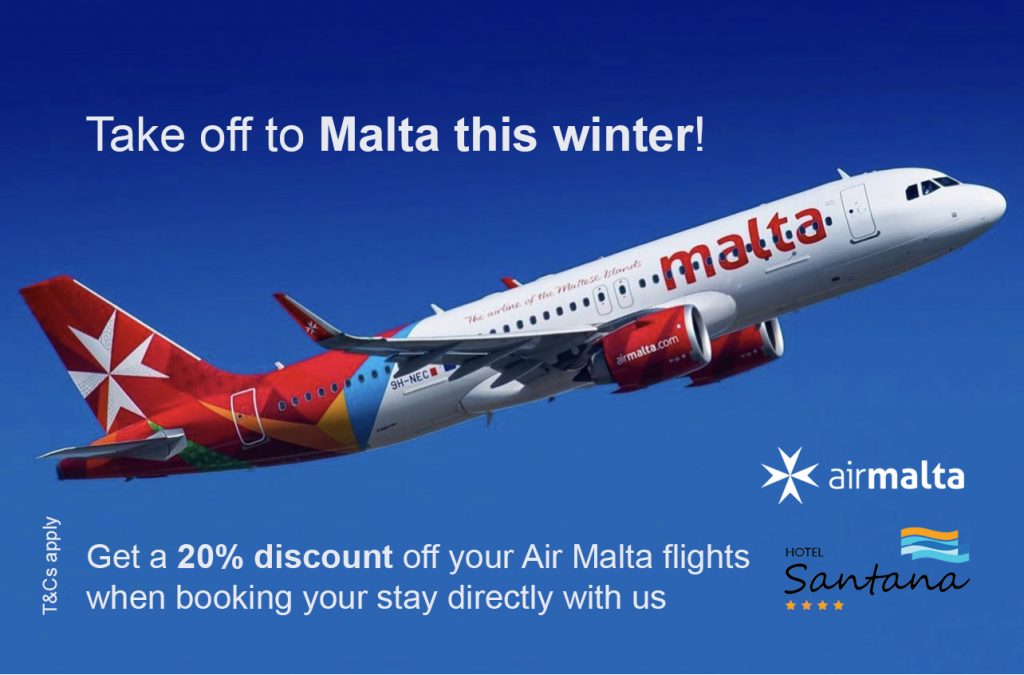 Offer No.1

(Valid for 2 Guests staying for 4/5/ 7 night stays and booking a non-refundable Standard Twin room on bed & breakfast)
1. Get a Free upgrade from Bed & Breakfast to Half board Plus
2. Half board Plus includes Buffet Dinner with drinks (during dinner only)
3. Get a 20% discount on your Air Malta flight
Offer No.2

(Valid for 2 Guests staying for more than 7 nights - booking a non-refundable Standard Twin room on bed & breakfast)
1. A bottle of local wine and petit fours in the room upon arrival
2. A room upgrade from a standard room to a Comfort Room
1. Get a Free upgrade from Bed & Breakfast to Half board Plus
3. Half board Plus includes Buffet Dinner with drinks (during dinner only)
4. Get a 20% discount on your Air Malta flight